Releases water into the soil as it dries out. Safe & biodegradable.
---
Soil Moist Natural
Soil Moist Natural is a grafted starch polymer designed to reduce plant waterings by 50% and last in the soil for an entire season. The organic starch in Soil Moist Natural is derived from corn. Soil Moist Natural is completely safe and biodegradable like our other Soil Moist polymer products. The product will hold several hundred times it weight in tap water and readily releases it back to the plant as the soil dries out. Ideal for hanging baskets, annual beds and vegetables.
Use 1 teaspoon per 10" container. The product must be incorporated into the soil at the root level.
Benefits of Soil Moist Natural
Reduce plant waterings by 50%
Lasts in the soil for an entire season
Completely safe and biodegradable
---
Packaging/Display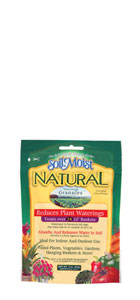 3 oz. bag (SMN3)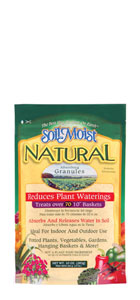 10 oz. bag (SMN10)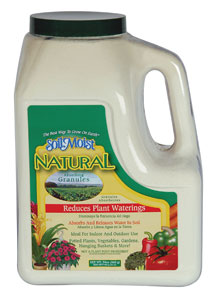 34 oz. container (SMN34)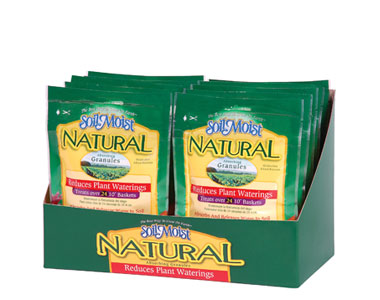 Shelf unit
---
Soil Moist Natural: Application Rate Table

| Pot Size | Amount | Pots per 3 oz Package | Pots per 10 oz Package |
| --- | --- | --- | --- |
| 6 inch | 1/4 tsp | 115 | 300+ |
| 8 inch | 1/2 tsp | 55 | 170 |
| 10 inch | 1 tsp | 28 | 80 |
| 1 gallon | 1 tsp | 28 | 80 |
| 3 gallon | 3 tsp | 9 | 24 |
| 5 gallon | 4 tsp | 7 | 18 |
*Trees and Shrubs: Use 3 tablespoons per diameter inch
Resources / Tech Sheets
Inquire about this product:
Bold items are required