Ideal for Containers, Baskets, Gardens, Vegetables, Turf & Trees
JRM features a wide array of products to help reduce your time, efforts and money for your home landscaping. Soil Moist polymers reduce your plant waterings by 50%, reduce transplant shock and soil compaction and is effective in the soil for 3-5 years. It is an effective water management aid that is ideal for interior and exterior plantings such as for trees, shrubs, containers, baskets, flower beds, vegetables and turf. Soil Moist acts as a form of insurance for the plant and is environmentally friendly.**
Note: Soil Moist must be incorporated into the soil at the root level of the plant/green good. Do not top dress or place on the surface.
** Results may vary depending on soil conditions such as salt, pH, microorganisms, u-v light
Grow Beautiful Plants with Less Water
stores over 200 times its weight in tap water
releases a steady supply of water as your plants need it
non-toxic, safe and economical to use
reduces plant watering by 50%**
reduces transplant shock
lasts several seasons**
---
New Soil Moist Mini Rack
Maximize your profits with a Soil Moist Dealer Mini Rack Merchandiser
centralized water management center
attention grabber
reusable polystyrene rack
compact size makes it easy to display in any size store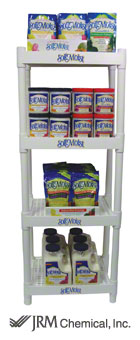 Display rack comes with 7 popular cases of Soil Moist:
3 ounce bags
1 pound jars (2 cases)
3 pound containers
8 ounce bags, Soil Moist Plus
1 pound jars, Flower and Garden Plus
3 ounce bag, Transplant
---
Packaging/Display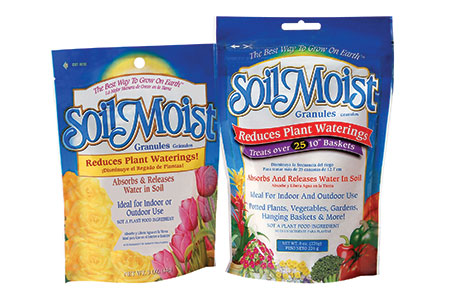 3 oz. bag and 8 oz. bag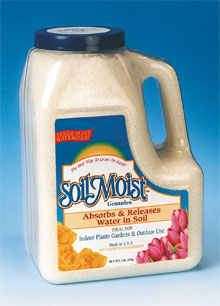 3 lb. jug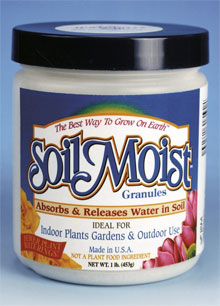 1 lb. jar
---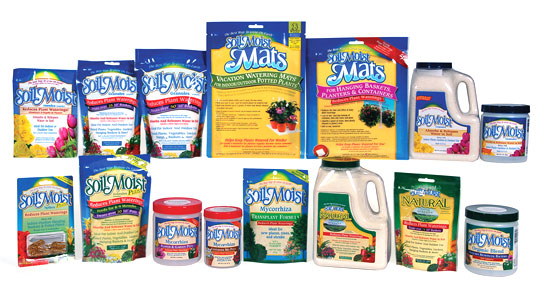 Range of products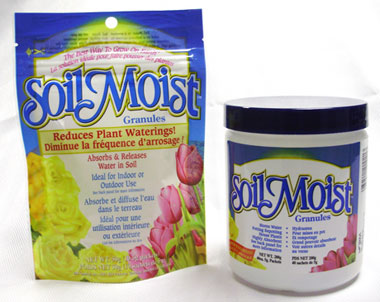 Soil Moist Canadian approved retail products; 50 gram bag, 200 gram jar
---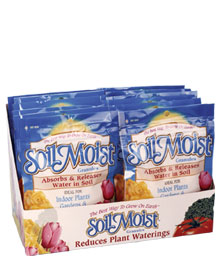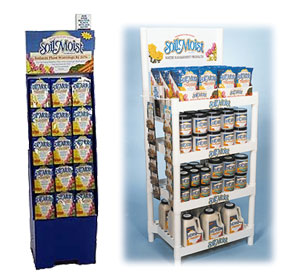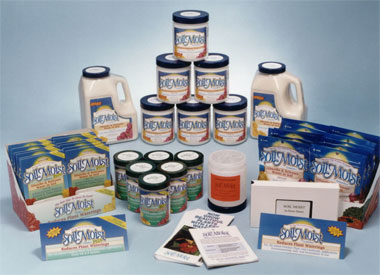 Soil Moist Starter Kit
---

---
Retail Info
Retail Cross Merchandising Concepts:
Soil Moist makes an ideal cross merchandising item for potted plants, watering needs, trees, shrubs, containers, fertilizers, and potting soils. Wherever watering is required. Ideas are endless...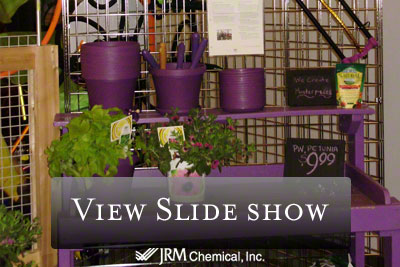 Package Sizes
8 oz. bag (12 per case)
3 oz. bag (12 or 24 per shelf unit; 60 per floor unit)
1 lb. bag (6 per case)
Plant spikes with & without 5-5-5 fertilizer (12 or 24 per case)
Plant disks with 10-10-10 fertilizer (24 per case)
3 lb. container (6 per case)
---
Videos with Mr. J Schwanke and ubloom.com
---